I am really happy to say that I have watched several movies from the 1950s now and most have been very good! Right now I am watching the movies in my living room, but I have a projector and screen set up in my basement that I hope to start viewing them on soon. I just need to get like one more cord or something to have that baby fully operational! Today's movie is "Cat On A Hot Tin Roof," starring Elizabeth Taylor and Paul Newman. Seriously, could these two be any prettier to look at?
"Cat On A Hot Tin Roof" [1958, Elizabeth Taylor, Paul Newman, Burl Ives]
After Brick Pollitt (Paul Newman) injures himself while drunkenly revisiting his high school sports-star days, he and his tempestuous wife, Maggie (Elizabeth Taylor), visit his family's Mississippi plantation for the 65th birthday of his hot-tempered father, Big Daddy (Burl Ives). Cantankerous even with declining health, Big Daddy demands to know why Brick and Maggie haven't yet given him a grandchild, unlike Brick's brother Gooper (Jack Carson) and his fecund wife, Mae (Madeleine Sherwood).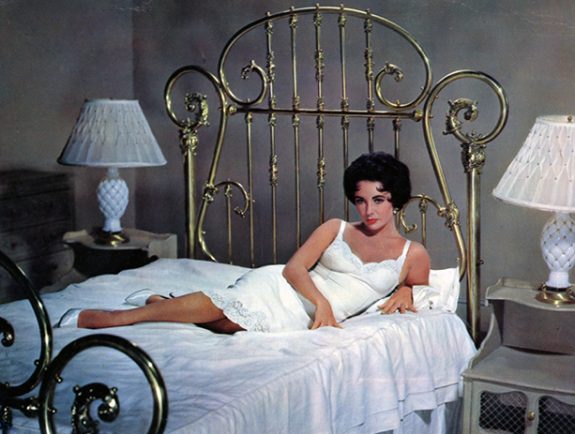 My Thoughts On "Cat On A Hot Tin Roof"
We often hear of women that grow "frigid" after a marriage is a few years old. We hear it so often, in fact, that it has become a subject often joked about in normal conversation. But marriage isn't as simple as that. And sometimes the man grows tired of the affections of the woman instead. Elizabeth Taylor's character longs for her alcoholic husband [Paul Newman] to touch her but he's not interested due to a long standing grudge he has against her. Instead of divorcing, they decide to stay together and, I guess, tolerate each other. But that arrangement just won't work for Maggie.
This movie is beautiful, touching and very well acted. I felt so much empathy for Maggie. It's hard not to feel compassion for someone as she pleads with her husband, telling him that it's lonelier to be with someone who doesn't love her than it would be to just be alone. As the movie progresses, we learn more about why he feels the way he does and why he is withholding and cruel towards her. Life is layered and always more complicated than it looks from another perspective and that is no different with this relationship and how things appear to their prying family members.
Have you seen "Cat On A Hot Tin Roof?" What did you think of the movie? Which character could you most empathize with? Let us know in the comments below or on social media.
Check Out The Rest Of Our #50FromThe50s Movie Suggestions
1. North By Northwest [1959, Cary Grant]
2. Rebel Without A Cause [1955, James Dean & Natalie Wood]
3. How To Marry A Millionaire [1953, Marilyn Monroe, Betty Grable, Lauren Bacall]
4. The Ten Commandments [1956, Charlton Heston, Yul Brenner]
5. Love In The Afternoon [1957, Audrey Hepburn, Gary Cooper]
6. An Affair To Remember [1957, Cary Grant, Deborah Kerr]
7. A Face In The Crowd [1957, Andy Griffith, Patricia Neal, Walter Matthau]
8. Cat On A Hot Tin Roof [1958, Elizabeth Taylor, Paul Newman, Burl Ives]