This shop has been compensated by Collective Bias, Inc. and its advertiser. All opinions are mine alone. #CollectiveBias
This post is intended for an audience of adults age 18 and older.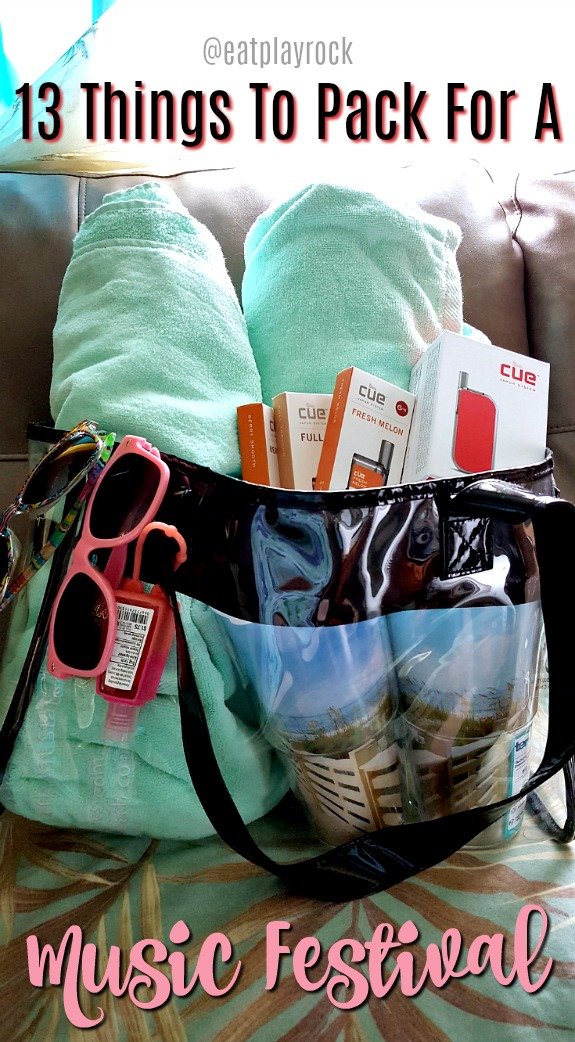 In my time, I have gone to hundreds of concerts. However, I have only attended the sporadic day at a couple of music festivals. I have never camped out or attended the entire festival until this year. A little over a week ago, I attended my first full music festival. I had so much fun that I will be attending at least 2 more this summer. With my first full music festival under my belt, I learned some things. So, all of you music festival newbies, today I am going to share with you what I feel you might want to pack for a music festival – starting with what type of sunscreen is allowed all the way to the Cue™ Vapor System.
13 Things To Pack For A Music Festival
You can't typically take a lot of things in to a music festival. I know that the one I just went to only allowed a clear bag or a fanny pack to carry your items in. So, be sure to check your music festival's website to see exactly what size bag you are allowed.
1. Lotion Sunscreen – Don't take aerosol sunscreen. I learned this the hard when I had to throw away 2 pretty full bottles on my way into the music festival. Don't be me. Take only sunscreen in lotion form.
2. Hand Sanitizer – Anytime I travel, I try to have hand sanitizer on hand. But music festivals often have port o potties. And they often do not have anyway to wash your hands. Make sure that you have hand sanitizer on hand for these moments, for when you are about to partake of some tasty fair style food and for all the other moments that you just need to clean your hands.
3. Antibacterial Ointment And Bandages – Blisters happen. You walk and walk and then, "Ouch!" Also, cuts happen, as do bee stings and insect bites. Make sure that you have bandages and antibacterial cream just in case you need it.
4. Sunglasses – Sometimes the most obvious things are the ones that we forget, right? You don't want to be laid back in a pool chair with the sun searing through your retinas. That's not a good look. Remember your shades.
5. Lip Balm – I don't know about you, but my lips can get really chapped in the heat. I always like to have lip balm on hand just for comfort.
6. Water Bottle Or Drink Container – Some music festivals allow you to bring in unopened water bottles and some do not. The same goes for cups. Make sure to check the website before you try to bring these items in. If they are not allowed, they will most likely be confiscated at the entrance.
7. Glow Sticks – It looks cool at night when you look around at all of the concert goers who have glow stick bracelets, headbands, etc. And these are super cheap at local dollar stores. The music festival that we just went to did not allow glow sticks but many do. Be sure to check your music festivals website before trying to take them in.
8. Body Glitter – This is something I did not think of, but when we got to the music festival people were covered in glitter. They looked cool and I was a little jealous. So, be sure to take some with you or prepare before you get there, if you are into that sort of thing.
9. Portable Phone Charger And Cords – It's happened to all of us. You are taking pictures of something awesome and your phone dies. Don't let that be you. Take portable chargers, wall chargers, cords, whatever you need to keep that baby charged for the entire day at the music festival.
10. Hair Ties – Our last music festival was on the Gulf of Mexico and, let me tell you, it was hot. I have long hair and I kept it up most of the time. Also, ladies, humidity is not your friend. The further in the day we got, the bigger my hair got. Put that mess up and forget it, lol.
11. Pen And Small Notebook – I like to write stuff down. For instance, when I was introduced to new music that I liked, I wrote it down so that I could go home and download it. You can do this on your phone instead, if you like, but I am old school like that.
12. Plastic Resealable Bags – These are handy for all kinds of reasons. If it rains, you can put stuff in them for a certain level of water resistance. Also, if you like to collect sand, you can store it in resealable bags. They are also great for storing non-perishable food items [that you purchase while at the music festival or that you brought in, if allowed].
13. Cue™ Vapor System – The Cue Vapor System provides real smoking satisfaction in an easy to use form. Many music festivals don't allow cigarettes but do allow vaping – especially when you camp. The Cue Vapor System is a patented device that is pre-filled and comes with disposable cartridges. You get high quality performance without all the complexity. I like stuff simple. How about you?
You can purchase Cue Vapor System at Kroger and Kroger Banner Stores. You can even sign up for the Cue products subscription program and save 15% on cartridges!
NOT FOR SALE TO MINORS. California Proposition 65 Warning Statement: WARNING: This product can expose you to chemicals including nicotine, which is known to the State of California to cause birth defects or other reproductive harm. For more information, go to www.P65Warnings.ca.gov. WARNING: This product contains nicotine. Nicotine is an addictive chemical. Cue™, the Cue Logo and Vaping. Made Simple.® are trademarks of Digirettes, Inc.