NFL Draft ~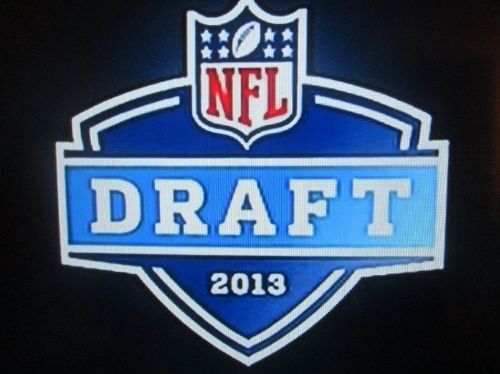 The National Football League's Annual College Draft will take place April 25-27 in New York and it will air in its entirety on the NFL Network. To better prepare you for the upcoming NFL Draft, I offer my own insights as to which direction the top ten teams will go in the First Round.
2013 NFL Draft Preview
NFL Draft Pick #1-Kansas City Chiefs
The Chiefs ended the season 2-14 and in some turmoil. They started rebuilding their team by hiring former Philadelphia Eagles head coach Andy Reid as their new head coach. Reid is a veteran of the famed West Coast offense and believes that having a good quarterback is essential to running a good offense. To that end, the Chiefs traded with the San Francisco 49ers for Alex Smith, the former starter at QB there who lost his starting job to Colin Kaepernick. Before losing the job, Smith had come off a Pro Bowl caliber year in 2011 and had finally shown the signs of developing into an elite quarterback. Will his growth continue under Reid? We shall see. But, with that trade, the Chiefs clear their first pick for something other that QB in a draft that is not very strong at that position. But, a good offensive tackle to protect Smith's blind side would be great, so expect the Chiefs to perhaps select Texas A&M's Luke Joeckel with the first overall pick. Joeckel is regarded as the best offensive lineman in the draft, and his services are much needed in KC.
NFL Draft Pick #2-Jacksonville Jaguars
Let's just be blunt here, the Jaguars were awful last year. Their two victories were just luck, quite honestly. The Jags need help in several areas, so really they could take a player at any position. Their most valuable asset is running back Maurice Jones-Drew, but even he is an unhappy camper in Jacksonville.
The Jaguars seem to be interested in going with defense with their first overall pick, and they seem to be leaning towards Oregon defensive end Dion Jordan in the NFL draft. Jordan recorded 42 tackles and 7.5 sacks in 2012 with the Ducks and is a hybrid player that can play both defensive end and linebacker. This makes him very valuable to a defense that ranked 30th overall last season.
NFL Draft Pick #3-Oakland Raiders
Does anyone remember when the Raiders went to the Super Bowl last? It seems so long ago that they faced Jon Gruden's Tampa Bay Buccaneers for the Lombardi Trophy. Oh, yeah, that was a long time ago.
The Raiders need help, well, everywhere. But, the consensus is that the interior of the defensive line is suffering the most. In a draft that is loaded with talented defensive linemen, the Raiders may have their pick of the NFL draft litter at #3, given that the Chiefs are looking to shore up their offensive line and the Jaguars are looking defensive end and not defensive tackle first. So, Florida's Sharrif Floyd appears to be their man. He is the cream of the crop at defensive tackle, and that speaks volumes in this draft.
NFL Draft Pick #4-Philadelphia Eagles
With Chip Kelly in place as their new head coach, I would not expect the Eagles to go anyway but offense with this pick. After the offensive juggernaut that Kelly developed at Oregon, he won't stand for last year's woeful performance from an offensive line that saw Michael Vick on his back more than upright. So, expect their NFL draft pick to be Central Michigan's outstanding offensive tackle Eric Fisher.
NFL Draft Pick #5-Detroit Lions
The Lions surprised everyone a few weeks back when they let it slip that they may consider taking BYU defensive end Ziggy Ansah with the 5th pick. Ansah was not even considered a top 5 candidate at the time, but the Lions were impressed with his combine performance enough to consider taking him. So, pencil him in here.
NFL Draft Pick #6-Cleveland Browns
The Browns showed vast improvement down the stretch last season and have made some huge ripples in the free agent pool by signing Paul Kreuger away from the defending World Champion Baltimore Ravens.  But, their secondary could us some help. They will look hard at Dee Milliner, a cornerback from Alabama. The Browns may have once considered Jarvis Jones, linebacker from Georgia, but his lackluster performances at the combine and at Georgia's recent pro day have hurt Jones, an he may slide out of the top ten.
NFL Draft Pick #7-Arizona Cardinals
After shelling out big bucks for Kevin Kolb from the Eagles a couple years ago, the Cardinals wound up releasing the oft-injured QB a couple of weeks ago, and now find themselves in need of a good starting quarterback. It's odd that the first QB selected would be this far down in the draft, but it just goes to show how weak this year's quarterback class really is. It is not a good year to be looking for a quarterback. However, West Virginia's Geno Smith has been impressive and has upped his draft value with excellent showings at the combine and West Virginia pro day. Arizona could learn to love him with this pick.
NFL Draft Pick #8-Buffalo Bills
The Bills released their starting quarterback, Ryan Fitzpatrick, last week after four mediocre years with them. This means the Bills will be looking for a new QB, but as I stated previously, this is not a good year to be looking for a quarterback. So, expect the Bills to look for a QB project in the later rounds and take Oklahoma offensive tackle Lane Johnson with this pick to be his protector.
NFL Draft Pick #9-New York Jets
The Jets need a lot of help, and now that they have traded away perhaps their best defensive player in CB Darrelle Revis, then cornerback may have just become a need position for them. Perhaps Florida State's Xavier Rhodes could be their pick with this one, however one thing is for sure: Rex Ryan cannot afford to draft anyone who needs development here. Ryan is on the hot seat (meaning he will like loose his job if he doesn't win this season),  therefore he must be spot on with his picks in this draft. If he feels Rhodes is a stretch, he make take LSU Defensive End Barkevious Mingo. Mingo has a lot of athletic ability and could help the Jets immediately.
NFL Draft Pick #10-Tennessee Titans
With the release of Matt Hasslebeck this offseason, the Titans are putting all their stock in young quarterback Jake Locker to be their starter this coming season. One thing is for certain, he will need protection that is sure to keep him off the turf. I think the Titans will be looking for a good offensive lineman to help him out this season and give Locker some sense of security. The best offensive lineman available at this spot will be North Carolina's Jonathan Cooper.
A couple of other notable Defensive Tackles that could climb into the top ten are Utah's Star Lutolelei and Missouri's Sheldon Richardson, but both seem to be mid-first round selections at this point.  Be sure to check out the Draft on NFL Network beginning this Thursday night at 8 p.m. eastern to see who your favorite team will pick!
Who Do You Think Your Favorite Team Will Pick?