Though you might not have have heard of Raelyn Nelson yet you are about to. She is the granddaughter of Willie Nelson, yes that Willie Nelson, and music runs through that family's blood. Starting out on a guitar gifted to her by her famous grandfather, she has now been playing and learning a variety of instruments for years. Read on to learn more about the Raelyn Nelson Band and be sure to check out their music today.
Raelyn Nelson Discusses Her Music, Puns & Her Famous Grandfather
EPR: So tell me about your band. What kind of music do you play? Who provides inspiration?
Raelyn Nelson: Okay, so my band is like punk garage rock with a country girl frontin the band. So I met Jonathan Bright through a mutual friend and I was trying to find a place to record some songs that I'd written, and he had studio in his back of his house and he was like "Oh come over. I won't charge you much to do some demos." This was a few years ago and my kids had just gotten old enough where I could get out a bit more. I had gotten done nursing them and I was able to get out a little bit more.
So I started going over there and recording some demos and by the end of the first session, he was like, let's put a combo together and and write more songs and I was like, "Okay!" I was so ready to jump in and his background has always been rock, garage rock, underground in the independent underground rock music scene. His stuff is like Cheap Trick, Ramones, The Clash, a mixture of all kind of that stuff and then when you add a country twang melody on top of it is basically a hybrid of what it is. It's like men and me singing my melodies on top of it.
And we've kind of stayed around here for two or three years and then over the past couple of years we've been able to get out and about. We're still an independent band. We're not signed by anyone or anything like that, not that we're against it. We just haven't been approached and, you know, we're just trying to get out and share with everyone. My grandpa's always been real supportive. My whole family makes music and are all making our own different kinds, different sounds. But, what else is there? We were doing singles for a long term and then just packaging it as an EP, and we were given the advice, "Ya'll just need to put together a full album and do it."
Raelyn Nelson Band Debut "Weed And Whiskey"
So over the past year, that's what we've been doing – putting together this album and it's just come out November 8. And our first single was "Weed and Whiskey," which is like a protest to the opioid crisis, because my little sister went through – one of her boyfriend, last year, he ODed died, and it's been a huge impact on my little sister and our family and his family, of course.
So, all of us have someone in our life who has been affected by the opioid crisis, and my thoughts are, we don't need to. All we need is a little bit of weed, a little bit of whiskey. And so I wrote the song. And it was kind of like a protest to the opioid crisis but it sounds like a party anthem song.
Turns Out Raelyn Nelson Is Quite Punny
EPR: Tell me about "Pun with Raelyn Nelson." I saw it on your Facebook page.
Raelyn Nelson: Okay, so before we had any anything really ready we were just writing songs and getting things going. We we like, "We need something to put out to start the Raelyn Nelson brand or whatever." And I've always loved puns, and we thought of the first one, and then thought of a second one and just kept going and it's completely ridiculous and stupid but we love it so much. I actually get people like, "We need another pun," you know, so it was kind of part of the thing and I feel like I'm minor in comedy so…
EPR: You have to entertain them any way you can right?
Raelyn Nelson: Yeah! You know, back in the day when country music was first starting, people would tell jokes on stage. It was like a Dolly and Porter, Loretta and everything. They would tell jokes and I just want to bring that back and lose all the seriousness. Just don't take it so serious.
Raelyn Nelson On Her Love Of The Ukulele
EPR: So, a ukulele – that is an unusual instrument to choose to play. Tell me what you love about playing the ukulele.
Raelyn Nelson: Okay, so when I first went to J. B.'s place, Jonathan Bright's place, he had just finished an all ukulele album – that was replacement cover songs. It was done in all ukulele and it was with Tom Littlefield, the album is called "Treatment Bound," by Bright Little Field.
There were like six different ukuleles around the studio, and I picked one up while he was engineering stuff on our music and I was like hey, I was like, "Can you teach me how to play this ukulele?" And it turns out if you play guitar, you can pick up the ukulele pretty quickly. It's not a hard instrument to play, and I was playing it a lot in the studio and I was like, "You know what? I want to play this and it's easy and I can move around and I didn't have to think about it too much." And let's be fair, like you said, it's an interesting instrument to choose and you just kind of stand out a little more.
But also, if you plug it in to an amp, it kind of sounds like a really high guitar. Not high necessarily, but like the high end of the music is is pinging in on top of all the grungy guitars and I think it sounds great. And my voice is soprano so it kind of melds in with my voice better. And I play it a little better than I play acoustic guitar, and I've just fallen in love with it. I can move around more on stage so I don't have to think about what I'm playing as much, like I said, it's really easy to play the ukulele.
So, you know, it's just like I can, I can focus on entertaining and singing, and still be able to play because I like when artists are playing something rather than just getting up and singing. I respect all artists, but I like the look of it better. The shows that I like to watch are ones when everyone's playing an instrument.
Raelyn Nelson On Her Famous Grandfather
EPR: Okay, so you are the granddaughter of Willie Nelson. Do you feel that that has helped open more doors for you in the music industry, or do you think that instead, it's out more pressure on you to live up to, you know, someone else's legacy.
Raelyn Nelson: I think a little bit of both. I think there's a good part because they're like "Oh, you're Willie Nelson's granddaughter!" So I know everybody's probably going to take a listen to the song, you know songs I've written. But that doesn't mean that they're going to like it because my music is not my grandpa's music, but I will say he did inspire me to become a songwriter, and I've always had these melodies floating around in my head which, that's really what I bring to the table – my opinion or lyrics and melody. I feel like it comes from the same spot where he writes his songs because he's always been a huge amazing person, and always working.
I was like, four or five years old when I realized, that first moment of, "Oh he's a big deal," because we were all at a restaurant and all of these people start swarming him. And my dad picked me, held me really close and tight, and I remember everyone just being really tense and trying to get us all out of the restaurant and I remember my little brain being like, "Why is everybody trying to talk to him?" It confused me but that was my first moment of like, "Oh, he's a big deal."
And ever since then, it's always been like, "Protect him!" You know what I mean? And one point of view is like he's always working, and he is entertaining and he's devoted his life to his music and the fans, and I don't see him ever stopping. I think she will die on the road, you know, and that's how I want to be. And I just want to play forever.
Editor's Note: Willie Nelson, at 86, is still actively touring and performed a duet with Kacey Musgraves called "Rainbow Connection" on this years CMA Awards last week. Several media and podcast outlets made assumptions that Willie Nelson was sick after seeing his CMA performance last week. But it was in the teens that night [cold weather is notoriously rough on a voice] and he is, afterall, 86, and has smoked a LOT in his day. So, his granddaughter is quite protective of her grandpa and thinks perhaps we all should chill. 😉
EPR: Kacey [Musgraves] seemed pretty protective of Willie [Nelson] and like she really cared about him and I was wondering if there's a chance they might actually rerecord "Rainbow Connection" together
Raelyn Nelson: Yes! It was really pretty. Sure. Yeah, sure. I will suggest that. And you're right, she's great. I almost kind of thought that maybe him and her had smoked before they went on, just the way they both kind of looked. You could tell that both of them were in the moment, too. I've met her before and I was like, I wonder if they had smells a little weed beforehand too and I think that she is one of the ones he would actually want to smoke with. He loves Kacey.
EPR: Yeah she seems sweet. So, with the Willie Nelson Family tour, would you ever be part of that? Do you ever tour with him at all?
Raelyn Nelson: He's suggested it before, and I'm kind of…I just want them to suggest it. I don't want to be like "Hey, put me on!" I want them to be like, "Let's put Raelyn on." So I'm just biding time and waiting and trying to build up as much as I can for my band and my music by myself so that is more likely to happen. Now we have done, I mean family shows with all our bands get together and play. But the Willie Nelson Family Tour, he's always called his band "The Family," so it's super confusing, and my uncle Lucas goes with him and takes a little bit of the heat off of him vocals and guitar wise, too. So it's a little confusing, but it doesn't necessarily mean that we're all going to be there but a lot of times family is there and everybody gets up for the Gospel set the end of the show and he always invites the family to sing in the gospels sets. But yeah, I'm hoping. I just don't want to push it on my own. It'll mean more if they are like, "Hey Raelyn, we want you." I know he would make it happen if I ask. But I don't want to ask someone to be asked.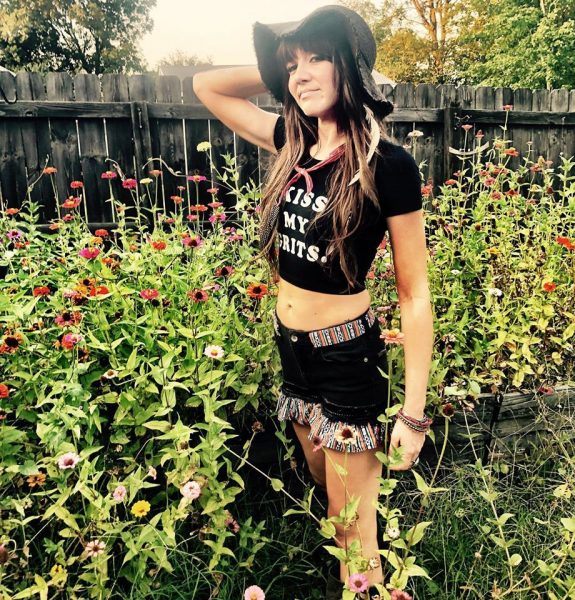 EPR: Willie Nelson is going to be headlining Merlefest, that's near me, next year. It would be really cool if you were there for Merlefest.
Raelyn Nelson: Okay, Merlefest! I will reach out to Merlefest and see about getting on that way.
EPR: Yeah, because that's a big festival with a large, diverse crowd. It would be really cool if you could be on the stage at Merlefest. So definitely look into that.
Shop Raelyn Nelson Band's store here and check out the band's tour dates here.
Get Social With Raelyn Nelson
Official Website / Facebook / Twitter / Instagram / Youtube