Recently, my family and I were invited to a media event hosted by Dolly Parton's Dixie Stampede. So, we all packed into the car and headed to Pigeon Forge, Tennessee. There we got to check out the new show that the Dixie Stampede would be offering for 2014.

North Or South: Pick A Side
Dixie Stampede is a family friendly dinner show that features great events such as horse riding stunts, comedians, and sometimes even the audience is included. When you first sit down in the main arena, you are notified as to whether you are on the North or South side. Then, you are introduced to the teams that are representing your side. For the remainder of the show, these teams will compete to see whether the North or the South will win while you cheer them on. But, the best part is yet to come.
Ah, The Four Course Feast
While you are watching, your waiter will politely serve you a delicious hot four course feast! First, you are served your choice of a drink, creamy vegetable soup and a tasty homemade biscuit. You can also buy the soup in the souvenir shop and, trust me, you will want to. We were given some to take home and try and honestly, it is just as good as what you get at the Dixie Stampede.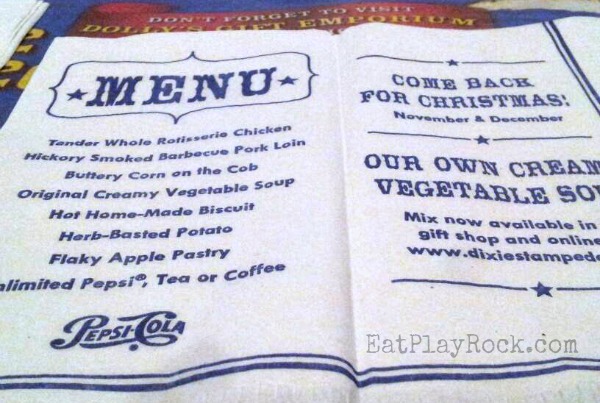 Next you will  get to chow down on corn on the cob, half a potato, hickory smoked barbecued pork loin, and a whole rotisserie chicken. The feast doesn't stop there! Lastly, you will get to enjoy a flaky and delicious specialty dessert and coffee. One great thing is that you receive unlimited amounts of coffee, tea or Pepsi products. Our server even asked us if we wanted coffee with dessert. If you are a vegetarian, Dixie Stampede also offers a meal just for you. In place of the meat, a vegetarian's meal comes with vegetable pasta.
My Favorite Part Of The Dixie Stampede
The entire show is a lot of fun. The South and North compete against each other in horsing events and other athletic type events. Also, there are bison and doves for all of you animal lovers. My favorite part of the Dixie Stampede live entertainment would have to be the portion of the show that included a few people dancing to Dolly Parton's song. "Cherokee Pride." During this portion of the event, the lights are off, and there is a dancing person mimicking a Cherokee Indian that seems to be preforming some type of ritual. Meanwhile, he is wearing neon attire that looks beautiful in the darkness. While the man remains dancing, another neon figure slowly drops from the ceiling, then showing itself as a beautifully glowing butterfly. The butterfly swings and dances in the air. It is really very moving and beautiful.
Socialize With Dolly Parton's Dixie Stampede
Dixie Stampede Facebook / Dixie Stampede Pigeon Forge Facebook / Twitter
*Eat Play Rock was invited to attend a media event at the Dixie Stampede. All opinions are completely our own.